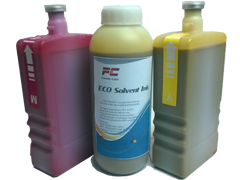 Epson PrecisionCore TFP Eco Solvent Ink w Chips
Eco solvent, Mild Solvent Ink set for wide format printing.

Epson PrecisionCore TFP Compatible Ink, same effect as originals

What is Compatible Ink and the Main Benefits:
Epson PrecisionCore TFP Compatible Eco Solvent Ink is capable of printing on Epson PrecisionCore TFP Printer with same effect as your original ones, and at the same time can save you a lot of money.
You can just easy to alternate your inks from OEMs to our compatible ink, no need to change ICC profiles. It's the one truly environmental friendly brand, and with two-years outdoor durability without any coating. Three time the color saturation as the normal inks in the market. The quality has been tested by customer around the world for many years.
The 7-color ink set (CMYKLcLmLb) is designed for good flexibility of the prints.

Key benefits:


High flexibility of the prints on wide media
Wide color gamut combined with low ink consumption
Excellent image quality
Excellent jetting reliability (in many print modes)
Long time outdoor color durability, sunlight resistance

Features:



Excellent jetting performance
Epson PrecisionCore TFP Eco Solvent Inks show an excellent jetting performance with piezo printheads demanding standard viscosity. The inks are formulated for the highest reliability delivering day-to-day consistent quality.
Epson PrecisionCore TFP Eco Solvent Ink set is especially formulated towards excellent jetting reliability for print mode with small drop size, as well as print mode based onl multiple drops.
Epson PrecisionCore TFP Eco Solvent Ink set is designed to deliver controlled ink wetting fitted to the multi-pass printing process.
The inks are based on high-performance pigment dispersions and ink formulations which are designed to deliver the combination of wide color gamut and low ink consumption.
Epson PrecisionCore TFP Eco Solvent Ink is ink set is delivering prints with high flexibility, allowing use on a wide range of wide-format printers and substrates, especially for roll-to-roll printing on flexible media.

Colour Shades:
| | | | | | | |
| --- | --- | --- | --- | --- | --- | --- |
| | | | | | | |
| Cyan | Magenta | Yellow | Black | Light Black | Light Cyan | Light Magenta |

Safety information:
Material Safety Data Sheets for Epson PrecisionCore TFP Eco Solvent Ink are available according to EC regulation 1907/2006, informing in detail about all relevant safety data, including labelling according to the present EEC regulations, as well as to health and safety labelling requirements. Such health and safety data may also be derived from the respective label.

Technical specs:
Target values

Cyan

Magenta

Yellow

Black

Light Cyan
Light Magenta
White

Static surface tension (25°C)

28-30 mN/m

28-30 mN/m

28-30 mN/m

28-30 mN/m

28-30 mN/m

28-30 mN/m

28-30 mN/m

Viscosity (at 45°C and 12 rpm)

7-9 mPa.s

7-9 mPa.s

7-9 mPa.s

7-9 mPa.s

7-9 mPa.s

7-9 mPa.s

7-9 mPa.s

Shelf life (from production date / * when stored under recommended conditions (4-23°C in closed bottles, not in direct sunlight and away from heat and UV-radiation sources)

12 months

12 months

12 months

12 months

12 months

12 months

12 months